At least four independent insider sources have revealed that the Alliance is now locating and legally seizing trillions and trillions of dollars in assets stolen by the Deep State.
The money is set to be released back into the legitimate economy as "prosperity funds" that could almost immediately create radical improvements in our overall quality of life.
Certain purported "sources" have been prognosticating this online for years, but this is the first time that our own insider circle has made such statements.
Enormous leaps forward are now being promised by Q Anon for this very month — July 2018. This is a very exciting moment.
The title graphic for this article is an illustration of what 15 trillion in 100-dollar bills would look like. One insider's estimate of how much stolen money may be recovered is literally twice this amount.
Thankfully, no one will have to design a building big enough to hold all that cash. The stolen credits will simply be transferred back into the economy.
This is one major piece of "good news" that we have been authorized to discuss. The details of this plan are being hammered out in a variety of high-profile meetings of top world leaders.
The enigmatic Q Anon briefings went completely silent as of May 22nd following a big burst of data. It looked like it might be over. One small post was made on June 3rd, followed by another week-long delay.
As it turns out, this was because the team was fully focused on these high-profile meetings, which involved very serious and complex negotiations.
Then the cryptic announcements came back in full, daily force as of June 10th, and have continued ever since.
The Alliance versus Cabal battle is now moving so fast that we have not had time to keep up with it, given a very busy schedule of work, conferences and new initiatives.
Things have finally eased up enough for us to make the time to post… and I do apologize for the delay.
This may hopefully be one of the last ones we write before the "Big One" finally drops.
[UPDATED Tuesday, Wednesday. This article is now page-locked as of 4:50 PM MST, Wednesday, July 4, 2018.]
[ADDITIONAL UPDATE Saturday. Brief note to address the firestorm of controversy that erupted after we published this.]
WHAT IS Q ANON?

In case you are unaware of this, Q Anon is a series of enigmatic posts on 4Chan, an anonymous internet forum, which began last October.
[UPDATE: It began on 4Chan and quickly migrated to the far less extreme 8Chan, thanks to dozens of comments. I only read the aggregator sites like qanon.pub. Got it….]
These posts are giving the blow-by-blow stages in an ongoing, official effort to expose and defeat the Deep State / Cabal / New World Order / Illuminati.
All of our very best intel has confirmed that Q Anon is the legitimate, public voice of the Alliance, kept anonymous for their own protection.
A recent article, linked below, indicated that Q has called out certain prominent public figures as Alliance supporters:
https://www.mintpressnews.com/pro-trump-conspiracy-monger-qanon-calls-for-regime-change-in-iran/244686/
Among the figures who have been promoted by QAnon as heroes resisting the "deep state" include Blackwater founder Erik Prince, Harvard law professor Alan Dershowitz, Attorney General Jeff Sessions and former Mayor of New York City turned Trump lawyer Rudy Giuliani.
The statements in the Q Anon briefings have aligned very nicely with our own intel, and added vast amounts of new, supporting data.
Though our insiders have indicated the US President is cooperating with this agenda, the Alliance's effort is decades in the making and far bigger than any one administration.
DON'T GET HUNG UP
Many people are divided about whether or not anything good is happening in the US executive branch at this time.
The good part is that with the incredible speed with which things are building, we won't have long to find out what the results of these current, very provocative signposts will be.
You will always read comments on an article like this where people have already given up hope. I certainly haven't.
It is very obvious that the Deep State is in a hyper-violent fight to the death right now, and it is losing by the day.
The sealed indictments alone are nothing we've ever before seen in history, and Q has now validated their involvement in the plan.
If our briefings are correct, we are seeing a nearly complete shut-down of human trafficking and pedo rings, an end to genocidal aspirations and "false flag" terrorism, and an imminent financial rehabilitation on an epic scale.
These events will also pave the way for disclosure of forbidden technology, the secret space program and the ET presence in time.
This will go from a "fringe" subject to something that is fully, absolutely mainstream, and a key concern on everyone's minds.
We have been covering the Alliance's efforts in great detail, with insider testimony, since 2009 — fully seven years before the last US Presidential election.
Q: "JULY 2018: THE MONTH THE WORLD DISCOVERED THE TRUTH"
Just a few days ago, on June 26th, 2018, QAnon made a very enigmatic statement in post number 1595.
[The best site to keep up with the latest Q posts is https://qanon.pub/.]
Post 1595 included a link to a Wikileaks tweet, which directed readers to a Mint Press News article that attempted to argue that Q was a massive psy-op that had everyone fooled.
Insiders have told us that Wikileaks has been taken over by certain intelligence agencies warring with other groups.
Here is the Twitter post where this link was dropped:
Pro-Trump Conspiracy-Monger "QAnon" Calls for Regime Change in Iran
Here is the Q Anon follow-up response the day after the article in the link was written:
Desperate agencies do stupid things.
Dead cat bounce.
You may have the site but we have the source. [DW: The "source" appears to be Julian Assange.]
https://mobile.twitter.com/wikileaks/status/1011441579565953025
?
Panic is good.
Panic is right.
July 2018 – the month the world discovered the TRUTH.
Conspiracy no more.
Time to FEED.
Q
Let's just stop for a moment right there. "The month the world discovered the TRUTH" is a very, very provocative statement.
What truth? How far will it go? Does this mean that the indictments will start to become unsealed?
No matter what, Q is clearly prognosticating that many "conspiracy theories" will soon become provable facts.
And again, today is July 1st… so if all goes to plan, this disclosure event will happen within no more than 30 days tops.
THERE IS NOWHERE TO HIDE
Then the next day, June 27th, Q post number 1602 included the following:
Q

!CbboFOtcZs

ID: 079dd1

No.1925332 ?
The game is over when the public knows.
The fight to keep the LIGHTS OFF is all that matters to you.
You will FAIL.
The AMERICAN PEOPLE are AWAKE.
You lost CONTROL.
SHEEP NO MORE.
You underestimated their resolve and their ability to free-think away from the pipeline narrative.
We will DECLAS.
We will shine LIGHT.
THERE IS NOWHERE TO HIDE.
No amount of money, influence, or power can stop this.
Clearly, this is giving further context to what is being planned for this very month.
The "game" will be "over," and the public will "know" — as various unpleasant secrets are declassified.
It is also interesting that just nine days before, the administration declared the immediate formation of a Space Force.
This is a provocative clue. It may well be that the Alliance is preparing to declassify space technology in the near future as well.
IT GOT EVEN MORE EXCITING AS WE WERE WRITING (HEY, THAT RHYMES)
Just as we were writing this section, even more posts came up in real time.
We just found out that Mueller's team the Inspector General's team actually has 470 people working it, and is directly responsible for filing the 40,483 sealed indictments now on record as of June 30th, 2018.
[UPDATE: The 470 people are on the Inspector General's team. The link Q sent us to, as seen below, makes this clear. The post was a bit hard to understand. This is all anyone wanted to write in the comments! Got it….
https://www.breitbart.com/big-government/2018/03/31/turley-sessions-using-utah-federal-prosecutor-much-better-trump-2nd-special-counsel/
Attorney General Sessions… also informed the chairmen that Inspector General Michael Horowitz, who is working with Huber, has a staff of 470 investigators, giving Huber access to enormous investigative firepower that far exceeds the staff of any special counsel.]
Even while Mueller appears to be going after the president, this is another clear insider "leak" that a far deeper agenda is at work.
Twitter user @damartin32 has been reporting on the efforts of a team of individuals who are systematically going through PACER.gov and looking for sealed indictments.
PACER stands for Public Access to Court Electronic Records. It is the definitive archive of court cases in America, sealed and unsealed.
The 40,483 indictments now on official record is a vastly, vastly higher number than the "norm" of 1,077 per year.
Please bear in mind that an indictment can only be filed after the conclusion of a grand jury, where a prosecutor questions witnesses in front of ordinary citizens.
Our intel has confirmed that many hundreds of secret grand juries and newly-hired attorneys have produced these indictments.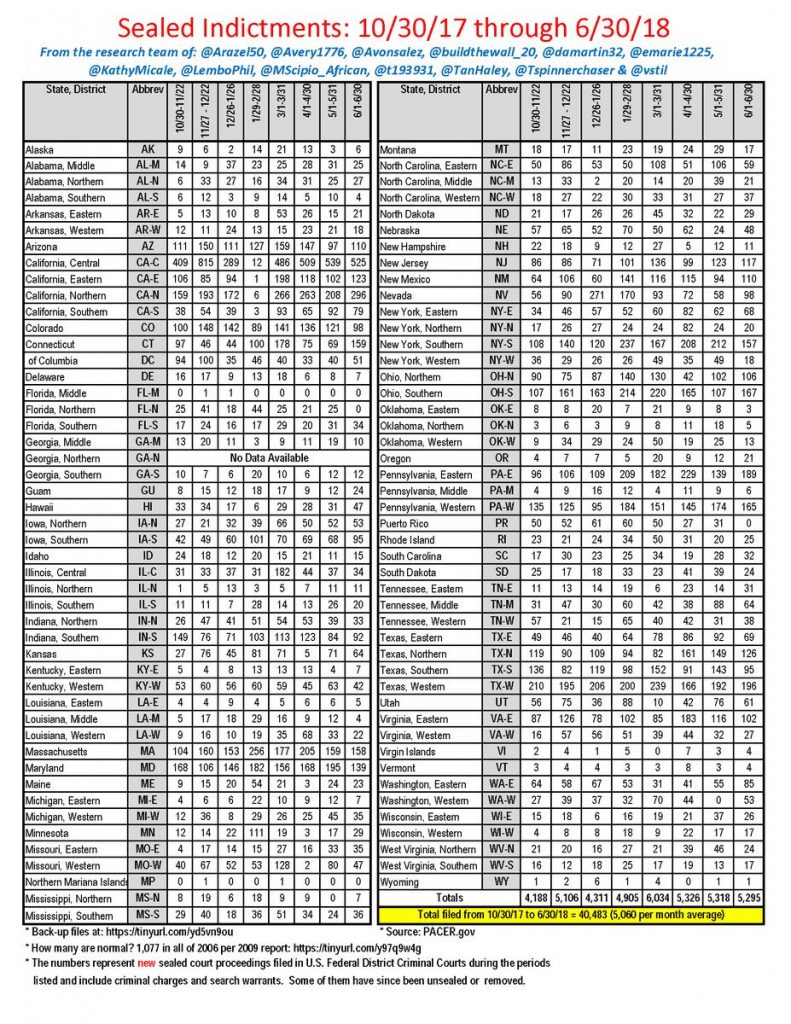 Here is the Q Anon post that links to an image of the above graphic and explains the context:
>1986043
Ask yourself – who is filing the indictments?
It would take a very large team to work this quickly.
Who has that kind of manpower?
470
https://www.breitbart.com/big-government/2018/03/31/turley-sessions-using-utah-federal-prosecutor-much-better-trump-2nd-special-counsel/?
Q
>>1986153
Ask yourself – does Huber have the ability to file across all 50 states?
Is any of this normal?
Think sealed indictments.
Think resignations of CEOs.
Think resignations of Senators.
Think resignations of Congress.
Think termination of senior FBI….
Think termination of senior DOJ….
Media BLACKOUT…..
How large is Mueller's team?
20-25?
Think 470.
The more you know.
Q
THE UNSEALING WILL NOT LEAD TO A VIOLENT CIVIL WAR
And in post number 1664, we just heard that the unsealing of the indictments will NOT result in a civil war.
Nor is the dumb media fear-mongering about North Korea continuing their weapons program correct.
Here is an example of one such article from yesterday, June 30th, 2018:
https://www.washingtonpost.com/world/national-security/north-korea-working-to-conceal-key-aspects-of-its-nuclear-program-us-officials-say/2018/06/30/deba64fa-7c82-11e8-93cc-6d3beccdd7a3_story.html
U.S. intelligence officials, citing newly obtained evidence, have concluded that North Korea does not intend to fully surrender its nuclear stockpile, and instead is considering ways to conceal the number of weapons it has and secret production facilities, according to U.S. officials.
The evidence, collected in the wake of the June 12 summit in Singapore, points to preparations to deceive the United States about the number of nuclear warheads in North Korea's arsenal as well as the existence of undisclosed facilities used to make fissile material for nuclear bombs, the officials said.
Here is the Q Anon post number 1664 in response:
There will be no civil war.
Coordinated MSM hysteria designed to instill fear – change narrative.
NK is NOT advancing their weapons program.
Coordinated MSM hysteria designed to instill fear – change narrative.
FAKE NEWS!
Q
EXCITING TIMES
After so many years of releasing inside intel about an international alliance working to defeat the New World Order / Illuminati / Cabal / Deep State, it is very gratifying to see the revolution now underway.
The revolution will not be televised, but thanks to the anonymity, scope and power of the internet, we can now make sense out of the many seemingly mysterious clues and signposts of this secret battle, and hear from the Alliance directly.
For many years I was almost a solitary voice of hope in a "conspiracy theory" crowd, with writers and video talents who typically acted as if the Deep State was all-powerful — giving it a nearly Godlike mystique of supernatural evil.
THERE WILL BE A CLUSTER OF VERY MAJOR EVENTS
The Alliance has discovered that their goal of defeating the Deep State has been far more complex, time-consuming and difficult than earlier battle plans had considered.
It is becoming obvious that a very large "drop" of contentious, world-changing information will occur at some point, now quite possibly before the end of this month.
This will likely be paired with dramatic and publicly visible actions, such as some form of the mass arrests we have been briefed about since 2009.
This is much different from insider chatter. There are literally forty thousand sealed criminal indictments ready to hit the scene.
It is hard to even imagine what names will be among those 40,000, and the things we will learn as it all becomes public.
Once this event sequence takes place, it will be up to us — this audience — to help everyone understand what is going on, and the positive nature of the steps that are being taken.
THE COSMIC IMPLICATIONS ARE VAST — AND SOUND LIKE SCI-FI
The Alliance is fighting to recover stolen funds, restore the devastated economy, end human trafficking, stop the real root cause of most terrorism, disclose the truth of the UFO presence, and release an incredible slate of "forbidden technologies."
The "big picture" we have assembled from insiders such as Henry Deacon, Bob Dean, Clifford Stone, Pete Peterson, William Tompkins, Corey Goode and Emery Smith suggests that our own Earth humanity is already an interstellar species.
The true scope and depth of our technological advancement, and interaction with extraterrestrial societies, has been deeply hidden from us, even at the highest levels of elected government.
This is not likely to continue for much longer. Q Anon has just gone "all in" with their imminent July prophecy.
IT IS DIFFICULT TO ADJUST
The truth is admittedly difficult to adjust to. I have been interviewing and connecting with insiders with "Cosmic" clearance, directly or indirectly, since 1993.
Cosmic clearance is considered to be 35 levels of "Need to Know" above the President of the United States.
The Deep State is not only involved in mega-banks, media and corporations. They are the closed, elite society that has hoarded all of these cosmic advancements for themselves — even from our own elected governments.
Until and unless you have Cosmic clearance, you won't even begin to understand what is really going on in the inside world. These various programs are highly compartmentalized.
I attended the Disclosure Project event in May, 2001, where 39 top insiders came forward as whistleblowers to reveal the truth of the UFO cover-up. I met the majority of all of these insiders during the course of a four-day trip.
Since that time I have had several others come forward and share intel with me on an exclusive basis.
Now that Emery Smith has come forward, you have the opportunity to hear from another new insider who helped introduce me to this vast world of secrecy over the past decade.
THE MASS OPINION HAS CHANGED
A very elaborate and brutal psy-ops campaign has been in place ever since the Roswell Crash was awkwardly re-written as a "weather balloon" after an initial media juggernaut of truth about a crashed "flying disc."
Anyone who is about 35 and up, and particularly those who are 50 and up, may still carry the scars of this "psychological operation" in their psyche.
It never ceases to surprise me how many people actually have their own UFO sighting story to share, once they find out I am a public figure who discusses the subject.
Again and again I find people in these older age ranges actually feel depressed about their sighting, rather than invigorated.
So strong was the "laughter curtain" that they often wished they never had the experience, as they did not want to become a "Saucer Freak."
People 35 and under are almost completely immune from this sense of fear and ridicule, as they have grown up in a world of decentralized, on-demand media.
Similarly, the Pizzagate and Q Anon discussions have gained far more traction and credibility within this younger demographic as well.
THE BIGGEST LIE

So in case you are new to this, the reason why the global economy is so depressed is that money has been stolen from us on a truly outrageous scale.
There is clearly a tremendous amount of money missing. It obviously didn't just vanish. It all had to go somewhere.
The amounts that have disappeared are vastly greater than any luxuries the "one percent" could possibly afford, such as houses, cars, jets and yachts.
It is literally enough money to build entire civilizations — as the Chinese have been doing with similar amounts.
This is a very important point that I argued mathematically in a previous article. Click here and scroll halfway down the page to "WHAT COULD THEY HAVE BOUGHT?"
A VAST, HIGH-TECH INFRASTRUCTURE — TOTALLY IN SECRET
Even the "trillions and trillions" that we are hearing may get re-introduced into the economy by the Alliance is only a small figure compared to the total amount of theft that has taken place.
Top insiders reveal that much of our money has been spent on developing a vast amount of high-tech infrastructure in underground and off-world bases, as well as the craft and facilities to make it all possible.
This is the Biggest Lie that seems so incomprehensible.
Even worse is the fact that the group responsible for this vast, super-high-tech secrecy is actively involved in the practice of what most sane individuals would call evil.
This is far more than just a vaguely-outlined belief system. It is a very complex religion with a host of different symbols that we are constantly being bombarded with.
THE BIBLE IS LOOKING MORE AND MORE ACCURATE
Sacred texts such as the Bible start to seem far more credible than most people have imagined once you truly understand what is actually going on.
Jesus caused quite a headache for the Roman Empire.
This same elite relocated to the islands of Great Britain to protect themselves from land invasion and become the elusive global menace that Jesus and St John the Divine's prophecies had spoken of.
Most of Europe was under the control of the Deep State until recently. The same was true for other British protectorates (South Africa, Australia, New Zealand and Canada) as well as the US.
Indeed, much of the "civilized Western world" was being held in a strangle-hold by this globalist elite cult.
This is the true realization of St. John the Divine's prophecy of "the Great Beast of Revelations having dominion over the Earth."
I don't try to shove any religion down anyone's throat. I do find it interesting to note the similarities between Bible prophecy and the true, hidden reality of today's world.
WHAT ABOUT THE ANTICHRIST?
At my last conference I had a woman come up to me and nervously ask me if the "Antichrist" is coming, who it would be, and what we would need to do to oppose him / it.
I explained to her that this prophecy was most likely metaphorical in nature, speaking about a much larger problem than could ever have consolidated into a single Hitler-type individual.
Simply put, the Antichrist prophecy has already come true — in the form of many different individuals who are participating in this horrific agenda in various ways.
The classic Edgar Cayce psychic readings defined the Antichrist prophecies as referring to a "spirit of hate" that affects many people in our world to varying degrees:
http://www.ascensionnow.co.uk/edgar-cayce–the-sleeping-prophet.html
"The fruits of the spirit of the Christ [Christ Consciousness] are love, joy, obedience, long-suffering, brotherly love, kindness.
Against such, there is no law.
The spirit of hate, the anti-Christ, is contention, strife, fault-finding.
Those are the anti-Christ, and take possession of groups, masses, and show themselves even in the lives of men."
– Edgar Cayce
Every essential aspect of the Antichrist prophecy has already been in place for quite some time, when seen in terms of this Cayce reading.
The world was thoroughly and completely deceived by a group that controlled all major aspects of our society, and had a secret goal to kill off the vast majority of us — in what they call "depopulation."
This agenda has been shoved in our face for quite some time — forcing us to have to reconcile the inner conflicts of living in a world run by psychopathic, suicidal "leaders."
NUCLEAR WAR WAS VERY MUCH BEING PLANNED
As an example, the Cabal really did intend to have a global nuclear war. They drilled out a truly vast underground infrastructure of over 265 cities to comfortably live out their lives until the surface again became habitable.
Thankfully, beings we would have called "angels" in the Bible, and which are now referred to as positive extraterrestrials, have systematically prevented any and all attempts to create nuclear war from succeeding.
This even included the complete melting down of all nuclear warheads in the US and USSR both some time in 1990. Multiple insiders including Bob Dean and Pete Peterson have confirmed that this event did take place.
Even top NASA astronauts such as Edgar Mitchell went on public record with their belief that ETs were preventing a nuclear war. Here is one of many examples from 2015.
IT BECOMES VERY DIFFERENT ONCE YOU SEE THESE ETs AS BEING REAL, EMBODIED BEINGS
The USSR was greatly demoralized by losing their entire arsenal and could not keep up the charade any longer — causing it to collapse within the following year.
Many other insiders have reported on UFOs appearing over nuclear missile installations and powering down the entire facility.
The story becomes very interesting once we realize that the beings in our ancient texts are very real.
These beings become far more three-dimensional — or, more precisely, multi-dimensional — once we realize that they never left.
Emery Smith is only the latest whistleblower to come forward with reports of multiple, direct interactions with extraterrestrials working in underground corporate/military bases.
THERE HAS NEVER BEEN AGREEMENT ON SECRECY
Even back in the 1990s, I remember reading vintage UFO books such as the works of Timothy Good, where he reported that a sizable number of people in this "black ops" world wanted to tell the public the truth.
"Alien Contact" was the classic I read first — released in Great Britain in 1991 and in the US in 1993, right as my awakening began. It is still fantastic, essential reading.
The truth-seekers have consistently been overpowered and out-muscled by the elite group wishing to keep everything a secret.
The idea that "Everyone is In On It, All Government, Intelligence and Military is Bad" is really nothing more than a fairytale — ironically created by these same individuals.
The Deep State very much wanted us to lose all hope in the idea that any credible opposition existed to counteract their sinister agenda.
In reality, powerful opposition groups have existed all along. They have come surprisingly close to succeeding on multiple occasions just in the 20th century alone.
Now the momentum is unstoppable.
There is a huge shake-up going on worldwide. Many different opposing factions are working together in what we are calling the Alliance.
If Q is right, the Alliance is about to make the first of a series of very big moves in the public eye.
HIDING IT OUT IN THE OPEN
To me, the most surprising aspect of the Cabal / Deep State / Illuminati is how blatantly and repeatedly they advertise their occult religious symbolism.
You see it everywhere — in movies, music videos, TV shows, video games, awards ceremonies and the like.
Once you understand the canon of symbols, such as the Masonic arch, the Masonic pillars, the Square and Compass, the All-Seeing Eye, the Templar / Maltese cross, pyramids, obelisks, number codes, pentagrams, "fallen angels" and so on, you will never look at "entertainment" the same way.
Typically once you start seeing these symbols appear in a movie, you will end up finding dozens of examples.
We have covered this extensively in many previous entries of David's Blog here on the Divine Cosmos website.
Continue Reading at Davids Blog….